| | | | |
| --- | --- | --- | --- |
| Subscribe to this Podcast Feed | | | |
May 1, 2007
FOR IMMEDIATE RELEASE
Net32, Inc., Provides Purchasing Capability for Pennwell Dental Publications
Net32, Inc. (Net32), developer of the leading business to business electronic marketplace for the dental industry, today announced the launch of a new section in the leading print publications Dental Economics and Dental Office. This represents the first ever presence in leading dental publications of an online open marketplace allowing immediate purchase of products advertised in print at a single website.
Cary, NC (PRWEB) May 1st, 2007 - Net32 announced today that Pennwell Corporation's flagship dental publication, Dental Economics, will include a new 4 page section of Net32 Specials beginning with the May edition. Up to 30 products will be displayed for sale from multiple vendors at great pricing. For the first time ever a wide range of dental supplies and dental equipment that dentists read about in the publication will be available for immediate purchase simply by going to one place - Net32. Additionally, a new 4 page section will appear in Dental Office starting with the June edition, focusing on products and services that are of interest to the dental team.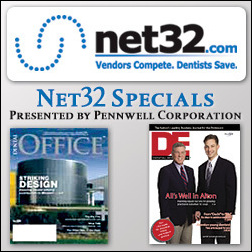 Donna Cassidy, President of Net32, stated "We believe that the dental industry, like so many industries, is being transformed by the powerful capabilities of the Internet. Over the past 10 years we have focused 100 percent on building an open and neutral fully featured online marketplace for the dental industry based on our patented comparison shopping technology. We are pleased to work with the forward looking people at Pennwell who see the potential to close the advertising/buying loop with this ground breaking new service."
Lyle Hoyt, Senior Vice President and Group Publisher for Pennwell's Dental Publications, said, "The collaboration between Net32, Dental Economics and Dental Office will result in significant and measurable benefit to our readers. Dental Economics focus on practice management and emphasis on employing business systems inside the dental office to drive practice productivity and profitability will be greatly enhanced.
"Our newest title, Dental Office, emphasizes the team approach to operating a successful dental practice. This will mesh seamlessly with Net32's product information and web capabilities in that these aspects of Net32 allow collaboration between the dentist, office manager and dental assistant to seamlessly coordinate the most efficient method of managing the purchase of dental products."
About Net32, Inc:
Net32, Inc., is a pioneer in developing, deploying, and patenting innovative business technologies that form the backbone of totally integrated business to business online comparison shopping marketplaces. Net32's flagship single point comparison marketplace is found at www.net32.com.
For more information, contact:
Donna Cassidy, President
Net32, Inc.,
250 Towne Village Drive,
Cary, NC 27513
Phone: 800-517-1997
dcassidy@net32.com
About Pennwell Corporation:
PennWell Corporation is a highly diversified, business-to-business media company providing authoritative print and online publications, conferences and exhibitions, research, databases, online exchanges and information products to strategic global markets
For more information, contact:
Lyle Hoyt,
Senior Vice President and Group Publisher
PennWell Corporation
1-800-633-1681
lyleh@pennwell.com